From your school district's dashboard:
1. Locate the 'Event Tickets' menu item on the left blue panel and then click on the sub-menu 'Event List'.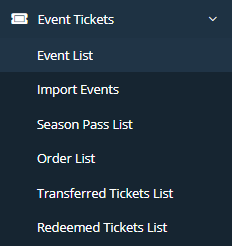 2. In the top right portion of your screen, click on the 'Add Event' button.

3. This is where you will fill out all of the necessary information in regards to your event. Please note that an image will be required for your event and the dimensions need to be 750x420. If you do not know how to resize an image, please find more information here.
4. Once you create your Event and it has been approved, you should receive a confirmation email that looks similar to this: