1. From your school district's dashboard, locate the 'Configuration' menu item on the left panel and click on the sub-menu item titled 'District Info'.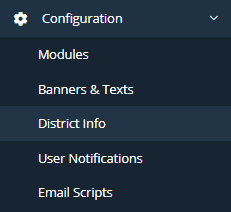 2. Check the 'Employees' and/or the 'Users' tab for the user that you are needing to unlock.

3. Use the search bar in the upper right portion of your screen to search for the user you are trying to locate.

4. Once you have found the user that has been locked out of the system, locate the 'Status' column and click the toggle from red to green.

-------------------->

5. Now the user's account should be unlocked.