There are two ways to set up a storefront. The first way is by adding one when you are setting up your marketplace item. When adding an item in the marketplace, one of the options is to place an item in a specific storefront (via a drop down menu). If you want to add your marketplace item to a storefront, select 'Yes' from the drop down menu in the field titled "Place Item in Specific Storefront".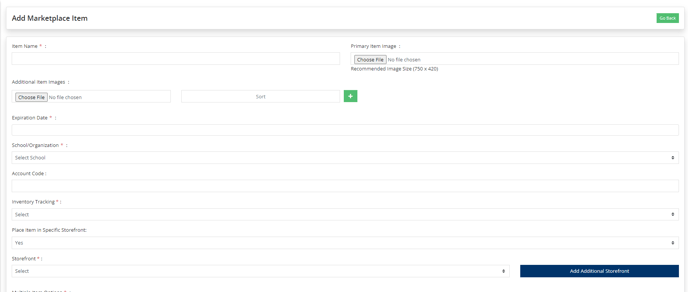 Now you are ready to either select an existing storefront (from the drop down menu) or create a new storefront by clicking on the "Add Additional Storefront" button.
Here is the second way of setting up a storefront:
From your school district's dashboard
1. Go to the 'Configuration' menu item on the left panel and choose the 'District Info' sub-menu.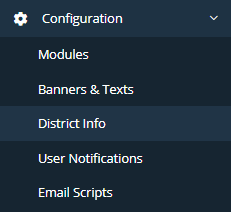 2. On the next page, you will need to locate the 'Storefronts' tab and click on it.

3. In the top right portion of your screen, click on the 'Add a Storefront' button.

4. Here is where you will be able to setup your storefront.