The School or District has to be the one who makes the decision on whether to require or not require the account code when creating a(n) item/need/event. Here is how you would require the account code. From the school or districts dashboard:
1. Locate the 'Configurations' tab on the left blue panel and click on the sub-menu 'Modules'.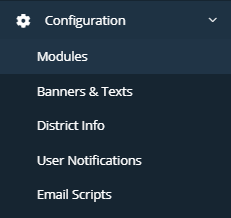 2. Click on the 'Need', 'Market Place', 'Fees', and/or 'Event Tickets' tab.

3. To enable the account code requirement, toggle the 'Account Code Required' toggle from red to green.

4. Now the account code will be required when someone is adding a(n) item/need/event in the respected module that requires it.