**NOTE: The fee that you want to refund MUST have the 'Request Refund' option enabled, at the time it was created, in order to request a refund.**
1. From your dashboard, locate the 'Fees' tab on the blue panel on the left and find the sub-menu 'Fee Payments' and click on it.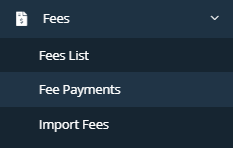 2. Locate the fee that you are searching for or use the search function in the upper right portion of your screen to find your fee.

3. Click on the edit button for your fee located at the far right under the 'Action' column.

4. On the next page, you should see the payment status at the bottom. Click on the drop down menu and change the status to 'Refund Requested' if you are needing to get a refund. Click the 'Refunded' status once the refund has been issued.