From the school district's dashboard:
1. Locate the 'Event Tickets' menu item on the panel on the left side of your screen and then click on the sub-menu 'Event List'.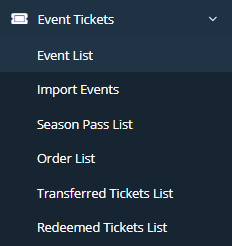 2. Click on the 'Completed' tab.

3. Locate your Event by using the search function in the top right portion of your screen.

4. Once you have found your Event, go to the far right of that Event and click on the 'Edit' button.

5. In order to re-list the Event, you have to edit the start/end date.

6. Click the 'Save' button at the bottom of the screen.

7. Go back to the 'Event List', and click on the 'Approved' tab.

8. You will now find your Event has been re-listed.