From your School District's Dashboard:
1. Locate the menu item 'Fees' and then click on the sub-menu 'Fee Payments'.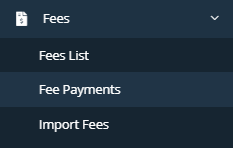 2. Use the search function in the upper right portion of your screen to locate the Fee you are searching for.

3. Once you have located the Fee, scroll over to the 'Payment Status' column.

4. Check to see the status of the Fee. If it is a green 'Completed' box, then the Fee has been paid.