1. From the dashboard page, locate the 'Configuration' tab on the left panel and find the sub-menu 'District Info'.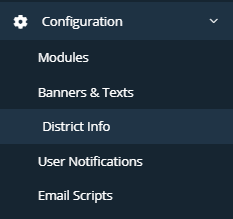 2. Click on the 'Employees' tab if you are editing an employee or click on the 'Users' tab if you are editing a user.

3. Locate the employee or user you want to edit and then on the far right of that entry, you should see the edit button (image looks like a pencil and paper). Click on it next to the employee or user that you want to edit.

4. You will be redirected to a page that provides fields to enter/edit the information for the employee/user.
5. Once you are finished editing the information, locate the 'Save' button near the lower right corner and click on it to save what you have edited.