(This function is only available at the District Administrator level)
From your school district's dashboard:
1. Locate the 'Configuration' menu item on the panel on the left of your screen and then click on the sub-menu 'User Notifications.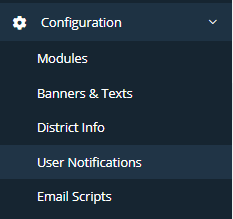 2. On the next page, click on the 'Add Notification' button located near the top right portion of your screen.
3. Here is where you can create your Notification.
4. Once you have finished creating your Notification, go back to the User Notification screen and make sure that your Notification is marked as active.

Once you have created your notification, go to your school district's dashboard to see what it looks like. Here is an example of what it may look like: