The 'Digital Divide' is an enduring and often immeasurable problem that affects an estimated 14 to 17 million families across the United States.
Digital divide refers to the resource gap between families with access to affordable, reliable internet and those without (whether due to economic circumstances or lack of reliable access where they live).
While the divide has persisted since the 90's, a pervasive shift to virtual and hybrid learning regimens prompted by the COVID-19 pandemic has highlighted (and exacerbated) the issue. In 2020, the SchoolSeed Foundation in Memphis, Tennessee took an aggressive approach to addressing the problem.
What is the School Seed Foundation?

Located in Memphis Tennessee, the SchoolSeed Foundation was established in 2009 to help Memphis-area school systems obtain supplemental funds for almost every type of school-related project. However, founder Vincent McCaskill stresses that the Foundation is not a grant program, but rather it acts as an intermediary between school systems (throughout the Memphis area) and financial donors to help bridge funding gaps in disadvantaged communities.

The SchoolSeed Foundation operates independent of (but in close coordination with) its beneficiary school districts. It is a 501(c)(3) foundation with independent management and oversight board, so it enjoys certain agility that larger government bodies may not. The Foundation is able to deploy needed resources directly and efficiently, which helps meet needs quickly.

Vincent believes that trust has been critical to successful school fundraising.

"When donors no matter how big or small give to support any sort of initiative, they know when it comes through us it will impact what they intended. And that's been our role over the last twelve years … to maintain trust. In the last twelve years, we've raised and administered over $200 million dollars for schools. Having that sort of track record gives donors confidence that it's going to get done.

We wanted to know a little more about the person responsible for starting it all, and Vincent was nice enough to give us some of his time and insight into his passion.

Vincent McCaskill, President & CEO of SchoolSeed Foundation


Living Through Actions

A native of New Orleans, Vincent moved around a bit as a child, finally settling in Mississippi where he went to college for journalism. After pursuing different avenues in the field - including media relations and development - he ultimately realized that his calling was in ministry and he became a pastor.

Vincent says he feels everything he has done in life led him to where he is now, leading the congregation at By God Inspired Fellowship in Southaven and running School Seed. He sees his work within the Foundation as ministry work - helping people with their basic needs and, while he may not have the ability to cover all their needs- he does have the ability to "get in where he fits in and get it done," SchoolSeed gives him a platform to share his faith through works: "I don't have to go around and quote bible scriptures, I can live the scriptures in front of people, right?"

Inspirational? You bet.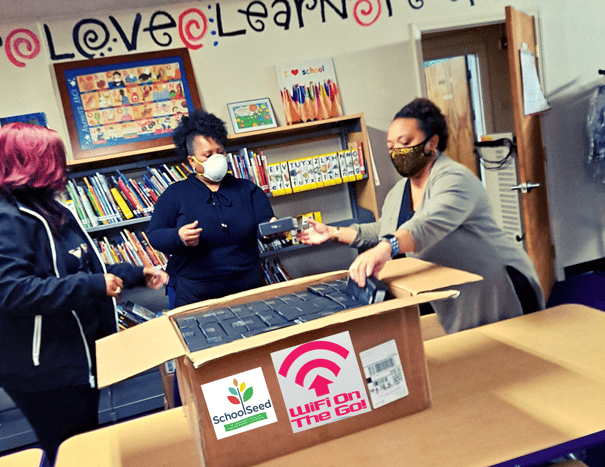 Unboxing T-Mobile hotspots for SchoolSeed recipients


Accessing a Solution

Most recently SchoolSeed's focus has been in working on equity and access-looking for solutions that will help to close the digital divide in Shelby County – home of one of the nation's largest clusters of public school districts.

As Vincent explains, "The pandemic opened the door to get our attention…the school system did a really good job about making sure every student had a digital device." But those devices didn't include internet access to be able to use them - and that's why the SchoolSeed Foundation partnered with LeanStream and its Wi-Fi on the Go Program. Through the partnership, the Foundation has already funded over 1000 WiFi hotspots for households in need. Vincent says he has a list of at least 1000 more he is working to help!
When asked for his thoughts on the Program, and how he found LeanStream, he described it as a "blessing in disguise...some of the best things that have the ability to substantially impact what you are doing are things that come when you aren't looking for them. About a year and a half ago I got an email on [WiFi on the Go] but didn't move on it because at that particular time it just wasn't a priority. But then the T-Mobile representative for the State of Tennessee recommended it for what we wanted to do - and, what we needed to do quickly. It was really removing the bureaucratic process of going through what school and what student qualified for what."
He went on to explain,

"The pandemic has really exposed so many areas of need throughout our communities. Of course we are keenly aware of many deficiencies, but for us as an organization [we considered] what could we do to mitigate a major portion of what kids have to have to go to school virtually. But we knew trying to get people hard-wired just wasn't effective. So, the hotspot being a portable device is the most efficient mechanism to empower a household with access to the information superhighway. I think that going forward, this program will increase because lack of [internet] access is such an issue.
[When] mostly everything done is done online, so how can we ensure that citizens are productive if they don't have the essential tools? I see this expanding beyond just where we are now. We have identified about another 1000 households that we want to impact, but for us to be able to help, it has to be tied to the school system. The school system is the 'convener' so to speak and everything in Shelby County, Memphis, touches the school system. We know that if there is a student in the school who is without WIFI at home, there's likely an entire family that's without. Which means we can now directly impact an entire household."
Moving Forward

The pandemic has highlighted the digital divide, and the fact that many of our neighbors struggle to keep pace in a live-work-play environment increasingly dependent on reliable, affordable internet access. Synergies such as the one between the School Seed Foundation and LeanStream have the potential to help address the issue.

"LeanStream is a wonderful partner. The partnership has been fruitful for School Seed. The continuity between creating the site branded with SchoolSeed's information that allows people to order hotspots … and then LeanStream serving as the administrator to ensure the hotspots activated, shipped and serviced. It's just a very effective organization in terms of its ability to do what it says it can do. It's a wonderful partnership that will last for a very long time. When you're looking to really impact your community in a very meaningful way - this is one way that you can really open the door to under-resourced communities."

Through its web-based fundraising, fee management ("education commerce") and digital access platforms, LeanStream supports public school districts, foundations and post-secondary institutions throughout the Southeast. The WiFi on the Go program is an exclusive program for LeanStream clients. If you are interested in launching your own LeanStream platform or finding out what else LeanStream can do for your organization, just click here and let's get going.